Check out what industry experts indicate as the main bets for next year when it comes to conquering new consumers.
How should marketing specialists work next year? Marketing trends in 2020 rely on technology and social media.
Thinking about marketing without thinking about digital is something increasingly difficult and unlikely. However, the simple use of modern tools is no longer enough. You need to think about task automation and business intelligence as ways to gain a competitive advantage.
Based on what was done in 2020 and what is still under development, several experts pointed out what the trends are for the coming year. What you'll see next is a summary of the main marketing bets for the beginning of the next decade.
1. Business Intelligence (BI)
The term "business intelligence" has become recurrent in use even in smaller companies. Easy access to data capture and analysis platforms allowed even companies without such purchasing power to participate in the growth process.
As a result, the number of available data has increased and the trend is that this scenario will not change. More and more companies will use data to make decisions, minimizing the chances of error and enhancing assertiveness.
In marketing, it will be no different. In the digital age, virtually everything is measurable. Therefore, your strategies must match what the analysis of the numbers demonstrates. There is room for innovation, of course, but investments will increasingly depend on technically grounded arguments.
2. Voice search
The latest update of Google's algorithm aims to improve user interaction with the search engine in natural language. This change will have even more impact on the way we produce content: increasingly, it will be necessary to give answers to users, not search engines.
For marketers, you need to think more clearly about voice searches. This feature is becoming more and more accessible – even simpler smartphones are able to search the internet by voice without any problems. Are our contents prepared to be found that way?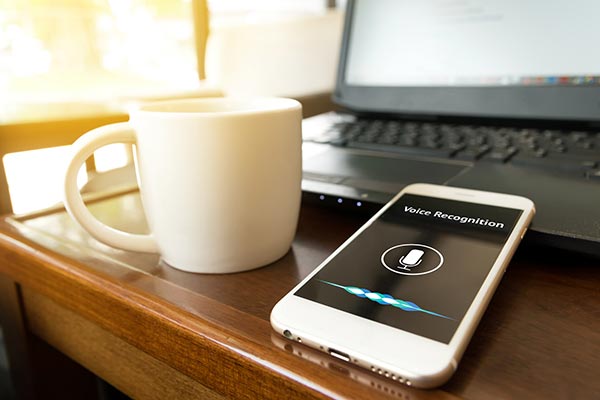 The adaptation that is expected, therefore, is to find content that is even more accurate and written in a natural and suitable language for its audience. Finding a persona's voice has never made more sense than it does now.
3. Automation and artificial intelligence (AI)
The less time you can spend on routine tasks, the better. On the other hand, it is necessary to maintain a high standard of quality, especially in those functions of direct customer service. Automation and artificial intelligence capabilities solve part of this problem.
The use of chatbots to answer frequently asked questions from consumers is on the rise. They are a low-cost alternative and capable of improving the perception of quality of care, as they provide 24-hour answers. More complex cases are still being solved by humans.
However, the decrease in service demands for people results in more time for professionals to deal with customers. It is not a question of replacing man with machine, but of letting him do more analytical and less mechanical tasks.
4. Humanization in marketing (or personalized marketing)
At the same time that automation requires passage, it is necessary to think about the humanization of marketing. Consumers don't want to be treated like numbers or statistics, they want their specific needs taken into account.
For that, it is necessary to think about smarter ways of segmentation. Defining a persona is just the starting point of the process. It can – and should – be refined along the way so that a client's pains can be heard – and resolved – to the fullest extent.
In other words, what is expected is that the service provided by person A is different from that of person B, but that both will be satisfied. This requires a greater degree of empathy and you will increasingly need to listen to the consumer through all available channels.
5. Marketing of influencers
More and more brands will have to find a voice to dialogue with their consumers. The solution may lie in digital influencers. Their participation in the results of marketing strategies is increasing, due to their high conversion power.
So finding someone who has the right tone for what your company wants to convey is increasingly relevant. In times when most of the content that users consume comes from social networks, it becomes essential to include these tools in your strategies.
However, humans are fallible. Every influencer has a personality with strengths and weaknesses. It is up to the person responsible for digital marketing to find those with the greatest balance between business discourse and reality and monitor the results.
Elisa Goldstein is an experienced writer at financemag7.com, where she's credited with more than 200 articles covering everything from entrepreneurial stories to mental health at work.
She also oversees the Comment&Questions, which poses important admission questions to experts in the field, and regularly hosts webinars on various aspects of the business school experience.
Prior to joining financemag7.com, Elisa honed her skills as a freelance writer, tackling a wide array of topics from petcare to car maintenance.
Elisa holds a Master's degree in Business Administration from the University of Sydney, Australia.